Who we

are

?
Good question! Some call us THE Agency for the hot shit out there. Others Strategic Thinker, Great Visionary, Architect for your brand. Who is right? Both!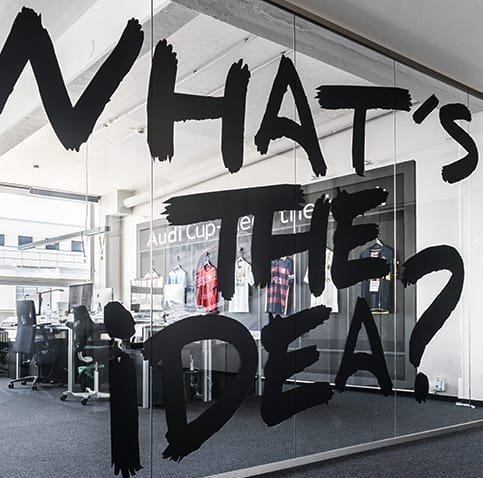 brands and emotions – We develop communication that emotionalizes brands for national and international customers.
Successful for over 22 years thanks to our powerful USP: Emotional Brand Boosting. Which means nothing other than that we use our collective strategic competence, innovative ability and creativity to strengthen the emotional essence of your brand. Because people out there don't buy a product, they buy a package largely made up of emotions.
Speaking of emotion: our work tends to generate considerable enthusiasm. Among target audiences, our customers, and ourselves. At international award shows. Where our work regularly features. OK, enough chitchat. Curious? We look forward to meeting you.
The b&e Fitting

Test

.
You're looking for an agency but you're not sure whether we'd be a good match? Then take the b&e Fitting Test and find out whether we're the right ones for you.
Innovator?
We've always done it that way? Nope! We'd rather do it differently. New! Exciting! Yesterday was yesterday. Why not explore new routes together, today? Let's go!
Traditionally orientated?
We're owner-managed. This keeps us grounded and provides you with a level of personal commitment and security you can depend on. Even so, how'd you like to break out of the comfort zone with us?
Planning preferred?
Just go for it? Not a great idea - at least as a brand. It's a good thing we can draw on the concentrated strategic competence we've built over 22 years of brand management. Every idea we recommend has a strong strategic foundation and contributes to an overarching vision.
Visionary disposition?
Think BIIIIIG! Even if it sounds a little trite, it still applies. Instead of acting small, we prefer to add a big exclamation mark. To every ground-breaking project.
Brave or safe?
Overambitious? Not at all! Solving communication challenges is our core competence. Our motto: Better brave than safe. Are you in?
Kick-ass creative?
Few terms are more overused and overblown than creative creative creative creative… now it's our turn. We think we're pretty creative. But perhaps it's best if you be the judge.